Frequently asked questions
Are Baba Bags Machine Washable?
---
Yes! Because our bags are made out of 100% organic cotton they can be machine washed. Make sure to wash on a cold setting and hang to dry.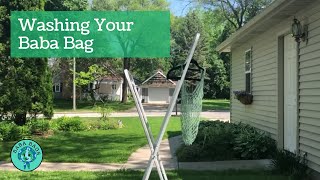 ---
Can small things fall through my Baba Bag?
---
Because of the design of our bags it is possible for very small items to fall out. For example something the size of a garlic bulb will stay in but anything smaller than a cherry tomato will fall through. To get specific the holes are typically around 1 square inch in size so any item smaller would fall through.
---
Are Baba Bags all the same size?
---
Each of our bags are designed the same with dimensions of 17 in. x 22 in. but since they are all individually handmade there may be slight variations in size between bags.
---
What does a Lifetime Guarantee mean?
---
blah blah
---
How much can a Baba Bag hold?
--- Our bags are thoughtfully designed and made with strong materials in order to hold a lot. Each of our bags can hold up to 120lbs! That is approximately the weight of 14 gallons of milk - so get creative and put our bags to the test!
---
Can I recommend a nonprofit for Baba Bags to partner with?
---
Yes! We love hearing what social causes are important to our customers. We are always looking for new nonprofit partners as we grow so feel free to email us suggestions at support@baba-bags.com!
---
Do you wholesale?
---
blah blah
---
Is there a discount if I buy more than 1 Baba Bag?
---
blah blah
---
---